St. Ephraim the Patriarchal Choir
St. Ephraim the Patriarchal Choir established in 1980 by H.H. Mor Ignatius Zakka I Iwas at St. George's Cathedral in Damascus. Father Severius Malke Mourad, (currently Mor Severius Malke the bishop of Jerusalem) was selected to be the first leader of the choir. Nowadays the choir is directed by father Jean Kawak who works together with the musician Chadi Emile Sarwé to continue the choir's improvment.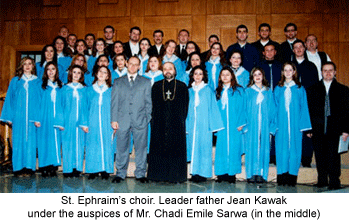 The forty-members choir commenced its activities by serving the holy liturgy. Thereafter, the choir began to perform concerts of the Syriac church music in Syria and Lebanon. Some of the choir's important activities are its participation in "The Holy Harp", the hymn festival, as well as its concert with Mayada Bseliss, the Syrian singer, at St. Ephraim's Monastery in Ma´arrat Saydnaya at summer 2003.

In spring 2000, St. Ephraim's Choir released its first CD titled "Ahiqar of the Church". This CD included nine Syriac hymns and four modern Arabic hymns. The hight quality of the CD reflects the great effort of father Jean Kawak.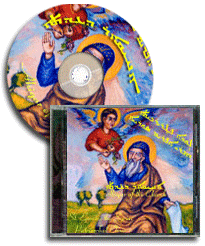 The Arabic hymn "Ahiqar of the Church", (lyric by Abboud Saado, music by Chadi Emile Sarwé), and the other Arabic hymns are composed in musical style which is difficult to be merged with the musical style of the Syriac Orthodox Church. On the other hand, "Aboun dbashmayo" (Our Father), is one of the hymns that should be appreciated for its wonderful performance in rich polyphonic form without losing its original flavour.

The choir's second album is a record of the concert in May 2001 at Qasr al-Adem, Damascus - Syria.
The choir performed many beautiful hymns accompanied with an oriental orchestra. Among the hymns presented was "Btouro Dihoud" in a new form composed by Syriac Music's Issa Habil.

Beside the main choir in 1998, H.H. Mor Ignatius Zakka I Iwas established the youth choir under the direction of Dr. Iskander Antoine Abdelki. The choir of thirty-members is currently participating in the service of the holy liturgy, besides presenting several concerts in Syria. The choir's latest participation was in the third festival of hymn, "The Holy Harp", in Damascus in 2002.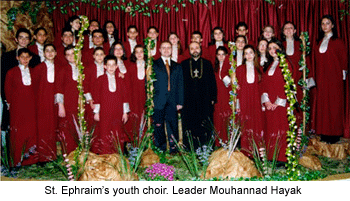 The youth choir works under the supervision of father Jean Kawak and the musical auspices of Mouhanned Hayak and Christine Khoury.


St. Ephraim's Choir and Syriac Music offer you a selection of the choir's work.




Abun dBashmayo

Qroleh Aloho

Mo Shbihat

Taw Nimar

Toubayk Ofrath

Nham Bashyoul

Btar'o Dilokh

Ahiqar of the church (Arabic)

Slouthekh Aman

Btouro Dihoud

Lasbartho t'en
Kefneth Kmo Zabnin

Zmirotho dhasho
By: Infomaster

Show other articles

«« Go back