Syriac Music Choir´s Conerts
Syriac music's choir has during November and December 2003 accomplished its first journey in Stockholm. The choir performed its first concert "St. Efraim's 1700 jubilee" in five churches. The journey commenced at St. Mary's church in Tumba, the Church where the choir had its rehearsal for the period of nine months. Thereafter Syriac Music's choir visited St. Jacob's church in Södertälje, followed by St. Georges church and St. Peter and Paul´s church in Norsborg. The last concert took place in St. Peter's church in Hallonbergen.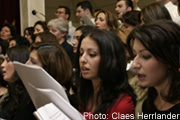 The remarkable aspect in all the concerts was the full audience in all the churches and the positive impressions.



Syriac Music supplies you with some pictures from the last repetition and different concerts. To see some photos from different performances click here.

To listen to a selection of three hymns from the concerts, click at the selected hymn: Eno Efraim, Ho Nishe, Kefnet kom zabnin



"Bahro Suryoyo" the Syriac magazine in Sweden wrote in four languages about the choir in its latest issue December 2003. Click here to read the articles.

"Qolo" the Syriac program from the Swedish radio made a special episode concerning the choir and its concert at St. Peter's church in Hallonbergen. To listen to the program click here.

After the first journey the choir was requested to perform new concerts in other churches in the province of Stockholm and out side of it.

Syriac Music's choir performed its first concert for year 2004 in St. John's church in Märsta, Sweden. As usual the audience filled all the 400 seats of the church. The first concert followed by another one in St. Gabriel's church in Södertälje, Sweden.

Syriac Music's choir will continue its journey according to the following schedule:
» Jan 31, 2004 at 17:30 o'clock in St. Mary's church in Örebro
» Feb 7, 2004 at 18:00 o'clock in St. Mary's church in Norrköping.
» Feb 28, 2004 at 19:00 o'clock in St. Afraim's church in Södertälje
» March 6, 2004 at 17:00 o'clock in Vårfru church in Enköping


By: Infomaster

Show other articles

«« Go back