God blesses this project
During our summer vacation the administration of Syriacmusic took the way to Damascus to visit H.H. St. Egnatios Zaka I the patriarch of the Syriac Orthodox Church. We aimed to introduce the web site for H.H. the patriarch. The initiative came from father Jean Kawak the responsible of the patriarchal choir who followed us during our visit.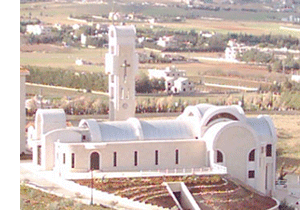 On the most beautiful hill in the area of Maaret Saydnaya we saw a new built church and the building of the monastery. As much as we came nearer we discovered more and more the beauty of the place. It was the main monastery, a church, special building for nuns and assembly hall. The wine yards and the crofts were another piece of art facing the area of the monastery.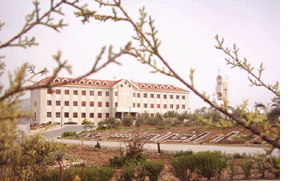 It seamed like that Father Jean Kawak had already informed about Syriac music. When we entered into the monastery we met many monks, nuns and clergy students and we were asked about hymns, melodies technical questions and so on.

In the third floor of the monastery we entered to the office of H.H. the patriarch. After presentation we began the demonstration.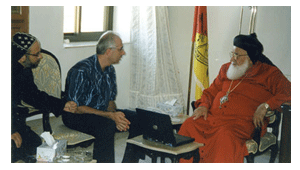 We said that the idea began with Issa Habil's attempt to notate the hymns of our Church in order to help choirs to sing in some uniformed manner. Abraham Oussi came with the idea of performing this work in a virtual website to reveal hymns on the Internet and built the database and its technical details and solutions while Issa began recording the hymns. Elias Zazi gave us a notating-software, little mixer board and echo machine, while St. Maria church in Tumba-Sweden participated with a synthesizer and microphone. Computer engineer Elia Barsoum donated his font "Serto Barsoum" and Namroud Gorguis put all these components in the currant form, which he designed. Rima Malki and Elias Zazi contributed with translation the content of the site to Swedish.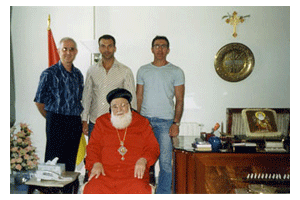 Our goal, we added, is to inform, document, and develop our church music. Moreover we are focusing a light on our folk music too. Syriac Music is documenting the history of the Syriac folk music as well supplying its users with the production of many syriac singers, composers and writers.

After listening to our introduction and watching the contents of Syriac Music, listening to some hymns and looking to their musical notes H.H. said: "Syriac Music is the syriac church and the syriac culture's treasure in the 21st century. In this work you are not only preserving our church musical heritage rather you are spreading it in a modern and scientific way. Something important I'd like to mention, H-H. said, that you are transferring our church music in a very honest way, without any changes from the manner of H.H. St. Eghnatius Jacob III.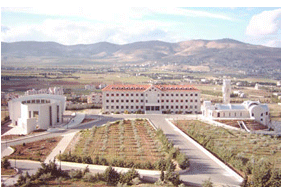 God blesses your work and every one participated in presenting this work to the world. Our church needs such projects and you should know that our heart is very pleased. You may ask for any help from us and we will not hesitate to supply you with what you need."

With these words we ended our meeting and thereafter we where guided in the monastery and listened to some talented students.


By: Infomaster

Show other articles

«« Go back