One year after Jean Karat
For one year ago, death vanished the Syriac artist and talented singer Jean Karat. Jean Karat departed after a long struggle with sickness. Thousands of Kamishli and the area's citizens attended his funeral in kamishli in December 8th, 2003.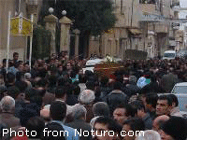 Jean Karat rose among the second generation of Syriac singers in Kamishli. He lived in Kamishli and didn't leave it until his departure. Karat had many famous songs both in Syriac and Arabic (Merdalli dialect), which are nostalgia for the generation that kept pace with him. Even the other generations and certainly the youth like his songs that sang in each and every Syriac event. As a teenager Jean Karat began singing together with Farid Youssef, Elias Karam (Domit), Jalil Maiilo and others.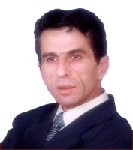 Jean Karat wasn't only a singer but a painter and calligrapher. He has many beautiful calligraphies in Syriac decorating larger spaces of the Syriac churches and clubs in many places in the world and especially in Kamishli.

Syriac Music fulfills its promise to its users and web visitors and introduces Jean Karat and his production. You may surf to the folk music's section and read more about Jean Karat as well as listen to some of his Syriac songs.



By: Infomaster

Show other articles

«« Go back