Syriac Music in new live concert
One of our goals in Syriac Music is to preserve and publish the Syriac folk song. And one of our methods of publishing the to perform concerts.

Between autumn 2003 and winter 2004 Syriac Music celebrated the 1700 anniversary of the great church father St. Ephraim by singing his hymns in
a special concert. St. Ephraim's concert performed in eleven churches and attended by more than 3500 spectators.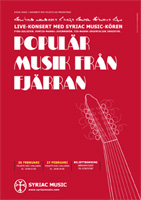 After our first concert we in Syriacmusic began focusing on our folk music. The Syriac folk music has been launched and developed with the
beginning of the passed century, with the syriac cultural prosperity in Kamishli, Aleppo and Beirut. Rhimto dleb wardé mzabno, Blilyo wimom, Bayto Shafiro latli and other songs were the flame of the Syriac folk song. Meanwhile Gabriel Asaad, Joseph Malki, Georges Chachan, Nuri Iskandar, Danho Dahho, Ibrahim Lahdo and others became the folk song's pioneer composers and writers. Some of the songs that became nostalgia in the hearts of the generation that lived during the commencement of the Syriac folk song are now the subject of a new concert.

Syriac Music's choir will sing some of the most wonderful songs that have been sang during the sixties and the seventies. A participation of the famous soloists Habib Mousa, Ninib Lahdo, Sardanapal Asaad, Foud Spir and Aboud Zazi will leave a marvellous touch on the concert. Syriac Music´s choir will sing the under the leadership of Issa Habil and with the accompaniment of an oriental orchestra.

Syriac Music's second live concert will be performed at the stage of Folkets Hus Theater in Hallunda – Sweden in February 26 and 27.

You are invited to share us our pleasure in one of our concerts:
Date: Saturday 26 February, 2005 at 07.00 PM
Date: Sunday 27 February, 2005 at 06.00 PM

Place: Folkets hus i Hallunda, Sweden

Price: 100 SEK.

For ticket reservation please send e-mail to: webmaster@syriacmusic.com


By: Informaster

Show other articles

«« Go back