Gabi Chamoun 1954-2007
Our beloved composer and Oud player Gabi Chamoun departed on Saturday the 3rd of November 2007 after a heart attack. Gabi Chmoun was born in 1954 in Kamishly.

He grew up with the Syriac Orthodox Church's music and our popular and folk music. He used to listen to Malfono Yousef Chamoun and Malfonitho
Evelin Dawoud´s songs and even the great Malfono Gabriel Asaad´s music. At the age of sixteen he came in contact with the Oud when he saw the Oud
player Fouad Dawoud playing.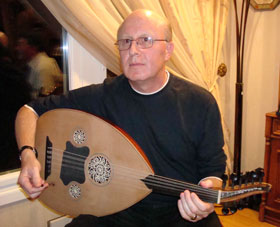 He searched and found classical oriental music recordings in the archive of the composer Georges Chachan who established a contact which developed to a cooperation in musical works.

Between 1975 and 1979 Gabi Chamoun studied at the musical higher institute of Istanbul. During that period he performed many concerts of oriental
classical music. In Syria Gabi Chamoun wored as a music teacher and composed a musical for children talking about peace in the world. Thereafter Gabi Chamoun immigrated to Sweden and later on to Germany where he lived permanently in Bremen.

At the age of 53 years Gabi Chamoun departed leaving his widow Florence and two sons Ninib and Michel.

Syriac Music´s deepest condolences to Gabi Chamoun´s family, friends and the Syriac communities in the world.


By: Infomaster

Show other articles

«« Go back