Christmas Hymns┬┤ Album
Christmas is coming and everyone begins to prepare for Christmas. Syriac Music Choir aims to make our church music a piece of cultural art enjoyed by not only priests and deacons but even by the believers in their daily lives.

A few years ago, the Syriacmusic choir released a cd of hymns that cover the whole Christmas season according to our Syrian Orthodox Church tradition. In this work Syriacmusic has sang hymns from the preparation for Christmas, Jesus Christ, Congratulations of Virgin Mary and the killing of Bethlehem┬┤s children.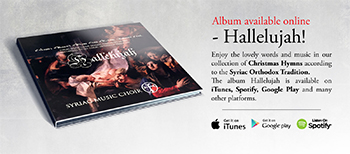 In this work you will find a combination of three hymns (Malakho Men Shelyo, O Hakimo and Ho Ro┬┤em Bofartho) presented in two styles. The one is intended for young people with a festive and modern music while the other is in its traditional form. This work is available at most electronic stores like Spotify, Google and others. This work can be a very nice Christmas gift. One can also stream the music and get home Christmas feeling as a preparation for the coming Jesu birth. Syriacmusic wishes you a Merry Christmas.

┬╗Spotify

┬╗iTunes

┬╗Google Play


By: Infomaster

Show other articles

«« Go back